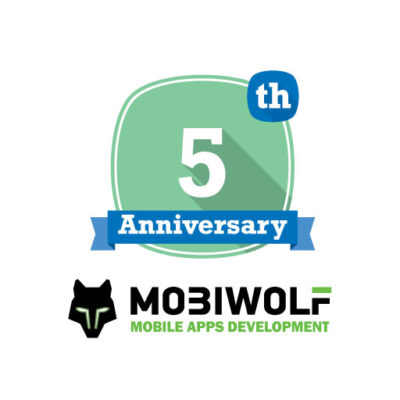 Today is November 23rd, 2015. That means that today is the Birthday of Mobiwolf! Already 5 successful year has gone. We are celebrating our small Anniversary.
First of all we have to thank our friends, colleagues and of cause customers. All of them have pitched in and helped Mobiwolf to become successful and rapidly growing mobile application development company. Special thanks to our families who are bearing us and our crazy ideas!
We can glance back with pride and no regret! Our team was expanded and continuing expending. Our main capital is professionals who work in our team! We are glad to understand that all person who was involved in the development of our projects have built the solid high skilled innovative mobile development forces.
During 5 years we have been collaborating with more than 60 customers from 20 countries. Half of our customers have hired us again for their new projects. The total amount of completed project came nearer to 120. We really appreciate our customers' cooperation and partnering!
If our business has been successful for 5 years, so we were able to find solutions to problems that are faced by our customers, we have made it possible to implement a really professional, able to harmoniously complement the business of our partners and held at this competition in the market. Tomorrow we will see new interesting projects, new challenges and obstacles, they will give us the inspiration to improve, to learn, to communicate and create. The game continues.
We can face the future with confidence! Mobiwolf was the profitable business last years. We plan to push and continue growing. The next year modest aims are:
Gain at least three times of last year profit;
Spread our service to all EU countries;
Expend the team to 20 professionals;
Develop our own Android Market featured application and its IPhone version.
Happy Anniversary Mobiwolf!